Line Painting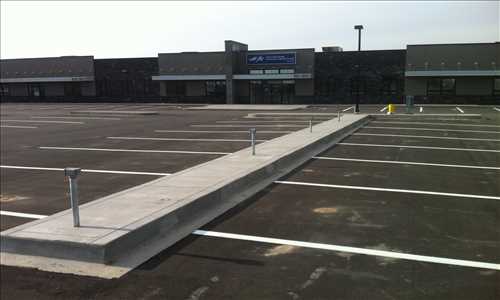 Virtue Construction and Street Sweepers offers line painting services with glass bead technology. Our glass bead technology ensures that your pavement markings have increased visibility in low light and extended durability. These services can be performed in conjunction with our Custom Sweeping operations or as a standalone service. We have Contractor Grade airless paint sprayers. Our line painting technicians will apply high grade traffic paint that meets Federal Aviation Administration regulations and roadway standards. We have both low Volatile Organic Compounds (VOC) solvent based and waterborne type paints available but recommend the low VOC solvent based paint as it provides durable long lasting results and meets government environmental standards. We have custom stencils to offer you a multitude of options for your pavement markings. Our staff strives for seamless communication with our clients and takes pride in the work that we provide. Our goal is to help meet your pavement maintenance needs from sweeping to line painting and everything in between.
Parking Lots
We work with contractors and business owners to optimize their parking lot traffic flow and use of parking space.
Roadways
We work with engineers to determine suitable traffic flow for roadways and intersections.
Airports
We deliver Transport Canada TP312 compliant markings to our airport clients. We also use guidance from Canada Airports Council to determine appropriate markings for terminal building aprons that allow safe movement and parking of aircraft and airside support vehicles.
CALL US TODAY
FOR YOUR NEXT PROJECT
We save our customers time and money with efficient, effective service. Let us demonstrate how our personal service and qualified staff can take some of the worry out of your current or upcoming construction project. Commercial and Residential.
Call Now
Address

P.O. Box 218, Old Hwy 16 East
North Service Road
Clavet SK, S0K 0Y0

Phone

306-251-0177

HOURS

Call For Appointment

Contact

[email protected]